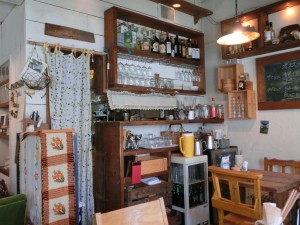 SUCRE located in the centre of Katano is getting popularity among the female customers. It is not only because of nice foods and drinks but also because of its atmosphier relaxing the customers. SUCURE's staff say that about 90% of the customers is female.
Of course, they always welcome the male customers. On Friday and Saturday nights, SUCRE opens as a wine bar. You will be able to enjoy another aspect of SUCRE.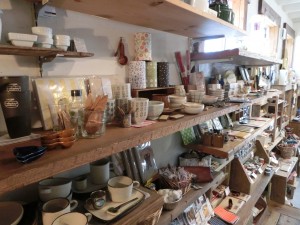 Next to the cafe, there is SUCRE's jumble shop. It sells a variety of cute goods, of which the customers will be fond. In particular, the collectors, who are gathering Moomin's goods, should visit the shop. Moreover, ladies' wear is sold on the first floor.
You may be able to find a rare Japanese souvenir at SUCRE.
Cafe, Bar, & Jumble Shop SUCRE
3-8 Kisabe Nishi 2 Chome Katano City
Phone: 072-893-8203
Open:
Cafe 11:00 a.m. ~ 20:00 p.m.
Bar (Friday and Saturday only) 18:00 p.m. ~ 23:00 p.m.
Jumble Shop 10:00 a.m. ~ 18:00 p.m.
Close: Wednesday
URL: (Cafe) http://cafe.sucre.net/ (Jumble Shop) http://shop.sucre.com/
Facebook: http://www.facebook.com/cafezakka.sucre.co/
How to get to SUCRE
It is a 5-minute walk from the Keihan Katano City Station.

View Larger Map