The Social Security and Tax Number System that is the individual number card called "My Number".
In this system, your 12-digit individual number is determined on October 5th 2015 and is informed to you by a paper-based notification of individual number. Be careful not to lose the paper-based notification. From January 2016, you can change it to an Individual Number Card (See an sample below).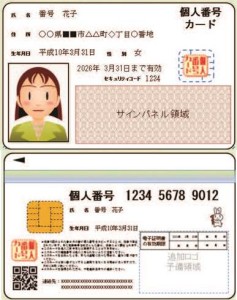 The individual number card can be used for tax and security procedures. Therefore, if working at a company, you need to report your individual numbers to your employer. If looking after dependent family members, their individual numbers may be needed by your employer.
For further information about My Number system, access to the official website for Individual Number Card.