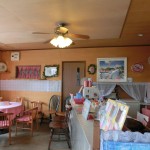 Crepe Ya San is a small shop offering a shin pancake called crepe. The shop is loved by not only neighbours but also the customers. Particularly, many children comes to Crepe Ya San after school.
The most popular taste of Crepe Ya San is Banana and Chocolate crepe. The shop's owner says that "I would like children to enjoy nice and reasonable crepe. I am always glad to see child's smile when having crepe.
Crepe Ya San
17-5 Ikuno 1 Chome Katano City
Open: 14:00p.m. ~ 18:30p.m.
Close: The shop is closed in dependence upon the owner's schedule.