Thank you for coming to I Love Katano.
This is a private website to root for Katano City (Osaka, Japan). This website will introduce Katano City's history, culture, latest events, and popular spots. I hope you enjoy them and have the interests in Katano City.
Although Katano City is an obscure city for even many Japanese as well as foreign travelers who visit Japan, it has a variety of original events and spots. I would like you to experience a quaint countryside of Japan in Katano City.
If interesting, please visit Katano City and discover something new.
I would be happy if this website is helpful for your travel to Japan.
New Upload
New Disaster Prevention Manual Uploaded on Katano's Disaster Prevention Manual page
A new revised disaster prevention manual for foreign residents of Katano; "Natural Disasters in Katano revised edition 2014" has been completed. A new page about Emergency Warning System has been added to the manual. It would be happy if the revised manual is helpful to learn natural disasters in Katano.
To read the revised manual, please click here.
Katano's Latest News
National Census Taken on October 1st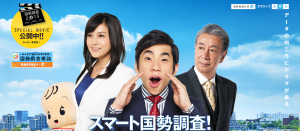 The national census will be carried out on October 1st. The research is implemented every five years in order to collect data such as precise population including foreigners, family structure, and house type. The researchee includes foriegn residents who live in Japan for more than three months.
For more information about the national census, a new page has been opened in this site. To look at the new page for the national census, please click here.
A Resonable Shopping Token Available from October 1st in Katano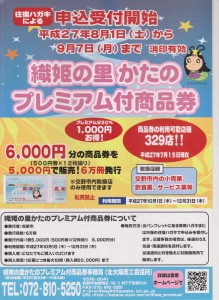 A resonable shopping token named "Orihime no Sato Katano Premium Token" will be available from October 1st. 12 vauchers are attached in a book and the price is 5000 JPY. In other words, the token book is worth 6000 JPY. The refund rate is 20% (1000 JPY).
Please make sure that "Orihime no Sato Katano Premium Token" is available only in Katano.
To get the token book, you need to apply for the purchase by a return postcard from August 1st to September 7th. The special return postcards for the token book are available at Katano City Council, Hoshida Branch Office, Yu Yu Centre, City Library Kuraji Division, and Seinen no Ie.
One person can buy up to 10 books. If the number of the applicants is more than a circulation of the token books, the winners are selected in a drawing.
To read past events and news, please go to the Past News Page.
Gratitude
I owe many thanks to the Minna no Katsuryoku Ka of Katano City Council, Katano City Foundation for Cultural Properties, archivists of Katano City Museum of History and Folklore, librarians of Katano City Library, Katano International Friendship Association, and my friends. They helped me to make this website.