Thank you for coming to I Love Katano.
This is a private website to root for Katano City (Osaka, Japan). This website will introduce Katano City's history, culture, latest events, and popular spots. I hope you enjoy them and have the interests in Katano City.
Although Katano City is an obscure city for even many Japanese as well as foreign travelers who visit Japan, it has a variety of original events and spots. I would like you to experience a quaint countryside of Japan in Katano City.
If interesting, please visit Katano City and discover something new.
I would be happy if this website is helpful for your travel to Japan.
New Upload
Jan. 9th A new project named Katano Economic Report has started. Katano Economic Report introduces the companies that are manufacturing Made-in-Katano products in Katano and Katano's "Monozukuri" (manufacturing skills). The Report File No.1 is Nichia Paint Ltd.
New Disaster Prevention Manual Uploaded on Katano's Disaster Prevention Manual page
A new revised disaster prevention manual for foreign residents of Katano; "Natural Disasters in Katano revised edition 2014" has been completed. A new page about Emergency Warning System has been added to the manual. It would be happy if the revised manual is helpful to learn natural disasters in Katano.
To read the revised manual, please click here.
Katano's Latest News
The 4th Ohinasama Exhibition brings spring to Katano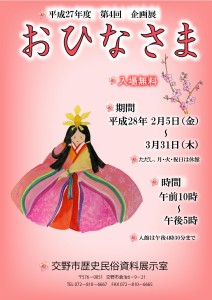 The 4th Ohinasama Exhibition kicks off at Katano City Museum of History and Folklore from February 5th. The museum collects and displays various Hina dolls which have been used in Katano. Some of them were made in the Edo period. The Hina dolls is a big spring event to pray for girls' healthy lives. You may be able to feel how people enjoyed Hina festival (Hinamatsuri) by decorating Hina dolls at the museum. The exhibition ends on March 31st.
Useful Town Guide Book Available Now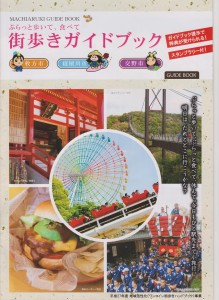 North Osaka Chamber of Commerce has published a town guide book titled 'Machiaruki Guide Book'. The guide book introduces travel spots, restaurants, and grocery stores in Hirakata City, Neyagawa City, and Katano City.
Furthermore, if showing the guide book at the introduced shops, you can receive special services such as discount.
The town guide book is available at the introduced restaurants, shops, three town hall offices, and the branch offices of North Osaka Chamber of Commerce.
In Katano City Council, Minna no Katsuryoku Ka, the Hoshida branch office, the Katano branch office of North Osaka Chamber of Commerce have a stock of the guide book. It is distributed on a first-come-first-served basis.
The Social Security and Tax Number System

The Social Security and Tax Number System starts from October 1st 2015. In this system, your 12-digit individual number is determined on October 5th and is informed to you by a paper notification.
For further information about the Social Security and Tax Number System, a new page has been opened (Click Here).
Gratitude
I owe many thanks to the Minna no Katsuryoku Ka of Katano City Council, Katano City Foundation for Cultural Properties, archivists of Katano City Museum of History and Folklore, librarians of Katano City Library, Katano International Friendship Association, and my friends. They helped me to make this website.