Thank you for coming to I Love Katano.
This is a private website to root for Katano City (Osaka, Japan). This website will introduce Katano City's history, culture, latest events, and popular spots. I hope you enjoy them and have the interests in Katano City.
Although Katano City is an obscure city for even many Japanese as well as foreign travelers who visit Japan, it has a variety of original events and spots. I would like you to experience a quaint countryside of Japan in Katano City.
If interesting, please visit Katano City and discover something new.
I would be happy if this website is helpful for your travel to Japan.
New Upload
New Disaster Prevention Manual Uploaded on Katano's Disaster Prevention Manual page
A new revised disaster prevention manual for foreign residents of Katano; "Natural Disasters in Katano revised edition 2014″ has been completed. A new page about Emergency Warning System has been added to the manual. It would be happy if the revised manual is helpful to learn natural disasters in Katano.
To read the revised manual, please click here.
Katano's Latest News
"Time Has Come! Go Fight!!" in "Tokugawa Ieyasu Shutsujin Gungi"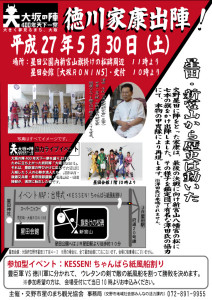 It is said that past history cannot be changed. But, we may be able to change history in "Tokugawa Ieyasu Shutsujin Gungi" held at Hoshida Park on May 30th.
It is 400 years ago that the final battle between Toyotomi and Tokugawa occured in Osaka. To memorialise this battle, in this historical event, people who wear Japanese armours play one scene of a council of war in the Sengogu period and replay the final battle with civic participants.
Furthermore, a performance group named "Osaka Ronin 5″ show their performance at Hoshida Hall. "Osaka Ronin 5″ play five Samurais who have fought in the Osaka final battle against Ieyasu Tokugawa who is the founder of Tokugawa Shogunate.
In the final battle performance at Hoshida Park, you may be able to participate in the battle as one of Samurais. To participate, please come to and register at the final battle participation desk. It opens at Hoshida Park from 10 a.m.
Tokugawa Ieyasu Shutsujin Gungi 2015
Date: May 30th
Venue: Hoshida Park & Hoshida Hall (See Google Map below)
Time: Osaka Ronin 5's performance 10:00a.m.~ (Hoshida Hall)
A council of war performance 11:00a.m.~  (Hoshida Park)
* If it rains, all events are held at Hoshida Hall.
For further details of "Osaka Ronin 5″, please access to Osaka Ronin 5 .
How to get to Hoshida Park & Hoshida Hall
It is a 15-minute walk from JR Hoshida Station.
The Official Blog of Amanogawa Tanabata Festival 2015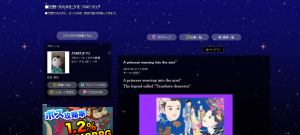 Katano's biggest summer festival named Amanogawa Tanabata Festival will be held on July 25th. To provide up to date information of the summer festival, Katano Tourist Information Office has started an official blog. It contains some English pages. Therfore, you can learn details of the summer festival and the relationship of Katano and the tale of Tanabata through the official blog.
http://ameblo.jp/st-jum-josiah/
Let's access now!!
To read past events and news, please go to the Past News Page.
Gratitude
I owe many thanks to the Minna no Katsuryoku Ka of Katano City Council, Katano City Foundation for Cultural Properties, archivists of Katano City Museum of History and Folklore, librarians of Katano City Library, Katano International Friendship Association, and my friends. They helped me to make this website.